The Incredibly Awesome Adventures of Puggie Liddell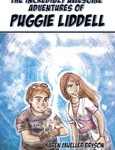 Calling all girls interested in Thomas Edison, electricity and adventure – The Incredibly Awesome Adventures of Puggie Liddell is the book for you.  Written by Karen Mueller Bryson, this fun book combines time travel with history lessons.  I even learned which plant was first used to manufacture rubber.
Puggie and his sister Gigi, two middle school siblings constantly bickering, learn that time travel is possible with a helpful Gameboy.  While the two are on a school field trip to the estate of Thomas Edison, they unexpectedly time travel to 1893.  Puggie, the geek of the two, knows immediately that they must find the real Thomas Edison for help in returning back to the present.
And so off they go to the Chicago World's Fair to find Edison and his electricity exhibit.  Adventures ensue as they make their way from Fort Myers, Florida to Chicago, Illinois.  But the adventures get even better once they reach the fairgrounds.  Dwarfs, dancing bears and Tom Thumb join the fun as the children try to find Edison and ask for his help.  Other characters include Nikola Tesla and Mark Twain.  You'll have to read the book to find out how they contribute to the story.
Interwoven throughout the book are little history lessons about the time period and the main characters.  The lessons are so neatly part of the story that a girl won't even realize she is learning history, just enjoying a fun book.  But she will remember the facts when she is done and no doubt will want to find out more.
The book website notes that The Incredibly Awesome Adventures of Puggie Liddell is the first in a series of novels about time travel and historical figures.  I can't wait to read the rest as I know I will learn something I didn't know before.
Leave a comment about this blog post and enter to win a copy of  The Incredibly Awesome Adventures of Puggie Liddell.  Comments must be left by 12 midnight PST on Friday, June 1st, 2012.