First Period stories from Women Everywhere.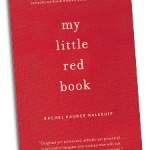 Tween girls can be a little dramatic about their first periods.  Each girl might think she is the only one that has ever experienced this life changing event.  However, we all know, it happens to every girl every where and no book helps understand this more than My Little Red Book by Rachel Kauder Nalebuff.
My Little Red Book is a collection of first period stories gathered from women of all ages the world over.  Some of the women are famous, like Cecily von Ziegesar, the author of The It Girl and Gossip Girls book series, and Erica Jong, author of the best-selling novel Fear of Flying. However, many of the stories are from women just like you and me who had an experience that they vividly remember.
My favorite story is by Aliza Shvarts, a Yale graduate and conceptual artist.  Her first period started while she was in seventh grade and she remembers the class watching a movie about the Ming Period in Chinese history.  She had pain in her lower abdomen and decided it was either appendicitis or her period.  Aliza talks about how she handled her period and the talk she had with her mother when she got home.
Many of the stories are from women who grew up in other countries and it is interesting to read about how menstruation is treated by different cultures.  Once again we realize though that no matter what, each girl has the same first experience of seeing something in her underwear.  Many who contributed stories to the book knew what that stain meant and many did not.
This would be a great book for you and your daughter to read together.  I think it would be fun to take turns reading the stories out loud to each other and then discussing each one.  And then take some time to explore the website.  Rachel provides information on contributing to organizations that provide feminine hygiene supplies to girls in poor countries.  This is one of many reasons that keeps girls home from school as they don't have supplies each month for their period and therefore don't leave the house.
Your daughter will definitely gain a greater appreciation for the common female experience of first periods when she is done reading this book.