Little Women – My Favorite Book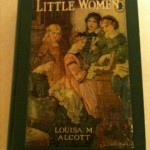 I just finished my annual reading of Little Women by Louisa May Alcott.  It is my favorite all-time book.  The picture you see in this post is a picture of my copy of Little Women.  It was handed down to me from my mother and was already well worn when she gave it to me.  About 15 years ago, my sister Ann had the book re-bound and had the cover art saved and attached to the new front cover.  This ensures the book will last for many more generations with the original cover art intact.
Every year when I finish Little Women, I ask myself why I love the book so much.  I have added reasons over time.  I am the oldest of four sisters so stories about sisters always interest me.  I strongly identify with Jo, the character that Louisa May Alcott based on herself.  Jo is an independent minded young woman who wants to make her own way in the world at a time when independence in women was not celebrated.  And I enjoy novels set during the Civil War.
I think this year though I enjoyed the book because of its representation of family values.  And I'm not talking about traditional family values so often talked about in political circles.  Family values in Little Women is represented by a group of individuals who happen to be related to each other who pull together when times are tough. The group also lends support to others who are in need of a family.  This is best represented by how the girls treat Laurie, their neighbor's orphaned grandson.
It is the story of facing things head on and rejoicing in what you do have instead of complaining about what you don't have.  The girls do complain that they don't have money for the finer things in life, however, they learn to substitute with simple pleasures and home made gifts.
Little Women is a great book to read with your daughter.  It encompasses U.S. history, positive family interactions and romance.  If you or your daughter have already read the book, give us your thoughts below.