The 4-1-1 on Step Parenting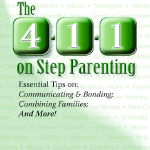 A couple of weeks ago I reviewed The 4-1-1 on Life Skills – a book perfect for starting your kids on a life of their own.  This week I am lucky to review another book by the same author.  The 4-1-1 on Step Parenting by Michele Sfakianos, RN, BSN is a must read for parents raising a blended family.
I am a member of a blended family, my father remarried five years ago after the death of my mother.  Although I have never had to live with my step-mother, there was still quite a bit of adjustment to having her and her family in our lives.  Reading this book has helped me with a different perspective on managing blended families.
The 4-1-1 on Step Parenting is broken out into 26 chapters addressing topics such as Relationship Building and Roles, Bringing in a New Baby, Adult Step Children and Planning Holidays.
The chapter on Planning Holidays will probably be very useful to many step-parents.  Holidays already create expectations and stress in even the most stable of families.  Adding in multiple step-relationships may lead to more stress and hurt feelings.  Ms. Sfakianos advice to "take on the attitude of 'the more the merrier' and everything will work out fine" is spot-on.  And discussing expectations before the holidays when emotions may not be running so high is also great advice.
The book devotes chapters to legal issues such as custody, medical consent and step parent adoptions.  The chapter on Same Sex Marriages and Step Parenting is also very relevant to current changes in society.
The 4-1-1 on Step Parenting will give readers in-depth information and understanding about the topics presented and will be helpful in opening up family discussions.  I'm sure parents can also use the book as a starting point for finding out more information where they need it.   I would recommend this book to any parent managing a blended family.
Leave a comment about this blog post and enter to win a copy of  The 4-1-1 on Step Parenting.  Comments must be left by 12 midnight PST on Friday, June 8th, 2012.