'What's Normal?' Bookmarks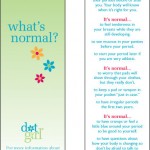 As part of our community service at Dot Girl Products we distribute free 'What's Normal?' bookmarks to schools and non profit organizations.  It is our way of educating as many girls as possible about the facts of menstruation.  The bookmarks contain several statements about periods and what is 'normal' as girls are always worrying if what they are going through is 'normal' although every girl is different, but normal.
The statements are simple and straightforward:
It's normal….for your friends to start their periods before or after you.  Your body will know when it's right for you.
It's normal…to feel tenderness in your breasts while they are still developing, to see mucous in your panties before your period, to start your period later if you are athletic.
It's normal…to worry that pads will show through your clothes, but they really won't; to keep a pad or tampon in your pocket 'just in case'; to have irregular periods the first two years.
It's normal…to have cramps or feel a little blue around your period so be good to yourself; to have questions about how your body is changing so don't be afraid to talk to someone you trust.
I receive many emails from young girls who are waiting, just waiting to start their first period.  Some are anxious about starting, some want to start soon so that they will be 'all grown up'.  What is interesting is that their questions usually are about the statements above – I'm seeing yellow stuff in my underwear, my breasts are popping out and are tender, I'm getting pubic hair – what should I do?  And the age old question – when am I going to start my period?  Of course, no one can answer that last question for any girl.
We all can though make sure that our daughters or other young girls we are responsible for understand what menstruation is all about. If you know of a school group or non profit that would benefit from the 'What's Normal?' bookmark, please let us know through our 'Contact Us' page.