Wear Red Today for The Heart Truth®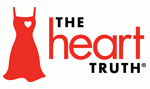 Wear red today in support of heart health for women and help your daughter learn the importance of life long health.
The Heart Truth created and introduced the Red Dress as the national symbol for women and heart disease awareness in 2002 to deliver an urgent wake-up call to American women. The Red Dress® reminds women of the need to protect their heart health, and inspires them to take action.
While heart disease risk begins to rise in middle age, heart disease develops over time and can start at a young age, even in the teen years. It's never too early, or too late, to take action to prevent and control the risk factors for heart disease. The Heart Truth is building awareness of women's heart disease and empowering women to reduce and prevent their risk. It is reaching women with important heart health messages in community settings through a diverse network of national and grassroots partner organizations.
The Heart Truth campaign is sponsored by the National Heart, Lung, and Blood Institute (NHLBI), part of the National Institutes of Health (NIH), U.S. Department of Health and Human Services (HHS) in partnership with The Office on Women's Health (OWH) and other groups committed to the health and well-being of women.