5 Lessons about Marriage for Your Daughter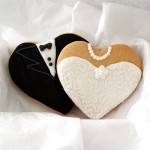 This past weekend, my husband and I attended the wedding of one of our daughter's high school friends. Hayley was a bridesmaid and it was fun to see her walk down the aisle, even though she wasn't the blushing bride. It made us realize though that her wedding will some day be upon us (we hope!) and there are some lessons we would like to make sure she knows before she embarks on the marriage road. Note that we want our two sons to learn these lessons too!
Lesson #1
Once you take those marriage vows, your spouse becomes the person you check with on decisions, large and small. Yes, your parents are still available for guidance and feedback (and love of course) but a married couple is a unit unto themselves and decisions should be based on what is best for that unit.
Lesson #2
Communication is the key to a successful marriage. A couple should be able to discuss anything and everything with each other. Being afraid or unwilling to talk to your spouse about health issues, money, or relationship concerns can lead to months if not years of unhappiness and spending too much time wondering what the other person is thinking instead of working out the issue.
Lesson #3
Be 'OK' with each other having 'mad money' that can be spent with no recriminations from the other spouse. Budget carefully to allow for this – i.e. monthly bills paid on time, money set aside for retirement or education needs, and a rainy day fund – and then set aside the 'mad money' with no questions asked.
Lesson #4
My mother always used to say 'If momma ain't happy, then no one is happy'. In today's day and age, the same goes for dad. Child rearing is a joint task and duties should be divided on the parent's strengths. One might be better at organizing and making sure that the kids get to school on time, the other might be better at helping with homework. Talk about it and review frequently to make sure both of you are enjoying the child raising, not just enduring it. And remember, take time for yourselves away from the kids. It ensures that you'll still like each other when you end up 'empty nesters'.

Lesson #5
This goes along with taking time out for yourselves with each other. Develop a common hobby and have friends in common. Whether you center your life around a faith community, a volunteer organization or an active outdoor activity, do something together and develop a close knit group of friends who share your values. You'll appreciate the support if there are times of trouble and appreciate a group to grow old with.