5 Uses for Leftover Candy Corn
When my kids were little and would bring back their trick or treat bags on Halloween it seemed like the bags were stuffed with candy corn.  While I like candy corn and so do my kids and husband, you can only eat so much of it.  At least straight out of the bag.  With that in mind, and the fact that we are going to a Halloween party this year, I thought I would go in search of more creative ways to use candy corn.  Turns out I'm not the only one who had this idea.  Here are some of the fun and delicious ways candy corn can be used in familiar recipes.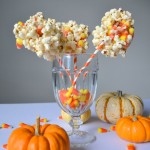 A sugary treat, but still healthy because of the popcorn, Tattooed Martha brings us Candy Corn Popcorn Balls. Use them as a center piece and then pass out for dessert.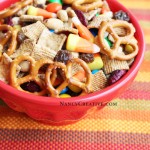 Another healthy treat uses candy corn in a traditional trail mix recipe.  This is a great recipe and like any trail mix you can add and subtract ingredients to suit your family's tastes.  I like the colorful look of this one.  Plus it includes my favorite chocolate candy M&M's.
Alida's Kitchen showcases Candy Corn White Chocolate Pretzels. I think these can work at an adult or kids party.  For the adults, serve on a pretty tray.  For the kids, fill a big orange bowl and pass out.  Also a fun snack to have while watching scary movies.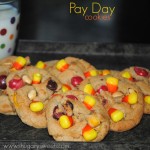 Shugary Sweets Pay Day Cookies uses an unusual mix of ingredients to come up with a great tasting cookie.  I think this is a cookie kids could easily make and have fun with.  I would try different flavors of M&M's or maybe even butterscotch or white chocolate pieces.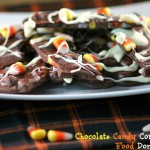 I love peppermint bark at Christmas time.  Now I can indulge at Halloween time too with this Dark Chocolate Candy Corn Bark from FoodDoneLight.com. It sounds incredibility rich and I might have to limit myself to just one piece – an hour.
Happy Halloween!