Anna-Mae Mysteries:The Golden Treasure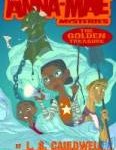 Is your daughter an amateur detective? Does she like thrilling mysteries?  Is she interested in the Civil War? Then The Anna-Mae Mysteries:The Golden Treasure by Lillian S. Cauldwell is just the book for her.  Based on the true story of Jefferson Davis and the lost gold of the confederacy, the book follows the 12-year old Anna-Mae, her brother Malcolm and her best friend Raul as they follow clues from mysterious sources to find the lost gold.
This book really grabbed my attention as I have always been a Civil War buff.  Basing the story on a true event provides a history lesson and some fun too.  What would your daughter do if she suddenly had a chance to find a treasure?  Anna-Mae, Malcolm and Raul are continually confronted with situations where they must figure out their own answers.  Along the way they are helped by some paranormal forces.  They also have to overcome bullies at school.  Through it all they stick together to find the answers to the lost treasure.
One of the neatest tricks in the book is how the trio uses ordinary items for extraordinary purposes.  For example, coat hangers as divining rods.  Ingenuity as it's best.  Anna-Mae also relies on her steadfast Granma for much needed advice.  This was also one of my favorite parts of the book – the bringing together of the generations.  Ms. Cauldwell did a nice job of demonstrating how important elderly wisdom can be.
The Golden Treasure is the first in a series of three books featuring Anna-Mae, Malcolm and Raul.  I know that once your daughter is done with the first book, she will be eagerly awaiting the next two in the series.
Leave a comment about this blog post and enter to win an inscribed copy of The Anna-Mae Mysteries:The Golden Treasure. Comments must be left by 12 midnight PST on Friday, April 27th, 2012.