Dot Girl Products featured in Entro Magazine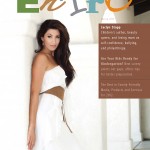 Dot Girl Products founder Kathy Pickus is honored to be featured in the 2012 edition of Entro Magazine, the online outlet for Mom's Choice Awards.
The Dot Girl First Period Kit was voted among the best in family-friendly media, products and services in 2010.  The kit was a Gold Recipient in the Personal Use Products category.
Excerpts from In the Spotlight: Entrepreneur Draws on Own Experience to Help Girls:
"Believing that adolescence is already tough on girls, entrepreneur Kathy Pickus wants to remove one obstacle in their path by offering products that can help them through the awkwardness and confusion of their first period."
"The company was founded by my sister, Terri Goodwin, and me. Our motivation to create The Dot Girl First Period Kit grew from our own awkward teenage experiences. Despite the fact that our mother was a wonderful nurturer to four daughters, she was never comfortable talking to us about our bodies, therefore, both of us were caught by complete surprise when our periods started. I vowed the first period experience would be different for my daughter, and thus was born the idea behind Dot Girl Products."
Click here to read the full article on pages 10 and 11.