Period Fact #9 – Period Tracking on a Calendar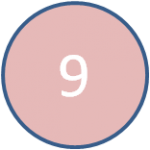 This week for our Friday series on periods we are going to talk about tracking periods on a calendar.  As we all know, the first question asked at annual ob/gyn exams is 'when was the first day of your last period'?  Your daughter will also want to track her period for other reasons.  Knowing her cycle will help her plan for camp or other activities so can pack the supplies she needs.
Tracking her periods also helps your daughter know what is normal for her body.  That way she will notice if anything seems not normal.  Sometimes an abnormal or irregular menstrual cycle can be a sign of some other problem in her body.  Always, if you or your daughter have questions about her health, you should talk to a doctor.
To help your daughter track her period find a special calendar to use or download a free Dot Girl period calendar. Teach your daughter to mark the day she first starts bleeding.  After a few months of doing this she will start to see how many days there are in between periods each month.  Remember that it might take up to a year or two for your daughter to become regular once she first starts menstruating.  And regular means something different for everyone.  It may not be the same each month and she may skip a month altogether which is normal too.
Your daughter can also mark the days she has mucous or cramps.  Over time this information will help her to better understand her body.  She can also plan to adjust her diet or activities to help deal with cramps if she has them – like more exercise, more cups of tea, or just knowing where the heating pad is stored.
We would recommend your daughter always has supplies on hand in the first couple of years after she starts her period.  A pad can be slipped into her backpack, purse or gym bag.  Using the pink bag with The Dot Girl First Period Kit is also a discreet way to store and carry supplies.  Once she is familiar with her own cycle, she'll be able to better plan when to have supplies with her.