A Better High by Matt Bellace, Ph.D.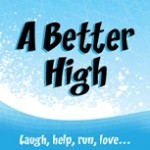 A Better High: Laugh, help, run, love… and other ways to get naturally high, this week's book review, is all about ditching the alcohol and drugs and using natural means of attaining a high in life.  Specifically geared towards teenagers, A Better High author Matt Bellace, Ph.D.  details in each chapter better ways of becoming high.
In the first chapter, Matt describes his own background.  He has been involved in youth drug and alcohol prevention efforts since high school.   Matt is also a stand-up comedian and speaks at schools nation wide to encourage students to find their own way of reaching a natural high. I was especially impressed by Matt's support for educators.  By joining Natural High teachers receive materials for teaching their students on how to achieve a natural high.
The book chapters each discuss a group of natural highs.  For example, chapter 1 covers 'laughing, smiling and other highs better than cocaine'.  Matt explains how to reach a high in each of the 'better highs' with examples from his own life and those of his friends.  Each section ends with a 'Try This' paragraph describing an exercise that will help get a teenager through painful or stressful times using a natural high.  Tools like making up a song to describe the painful situation are also described.
Other chapters devote time to running or surfing (or whatever exercise works best), to eating (healthfully) and cooking, to helping others, listening, loving and caring.  It struck me that all of these topics apply to anyone and everyone who is trying to achieve a happy, healthy balance in life.
A Better High also includes how to avoid using natural highs unnaturally.  For example, eating too much or too little food in order to avoid addressing stressful situations.  Matt than ends the book with his 'best natural high day' for each season and encourages readers to do the same.
This was a very interesting and fun book to read.  Matt uses humor to illustrate many of his points and I found myself smiling at his stories as I absorbed his message.  I would recommend this book for any teenager looking to achieve a natural high in life.
Leave a comment about this blog post and enter to win a copy of A Better High.  Comments must be left by 12 midnight PST on Friday, June 29th, 2012.