Best Chocolate Chip Cookie Recipe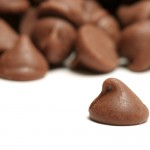 I could not let National Chocolate Chip Day go by without sharing our family's favorite chocolate chip cookie recipe.  This recipe is courtesy of Hillary Clinton who, while her husband was running for president, said she focused on her career instead of staying home and baking cookies.  Including the oats makes the cookies seem healthier with less guilt while eating!
The original chocolate chip cookie was invented by Ruth Graves Wakefield in the 1930's at her Toll House Inn in Whitman, Massachusetts. Ruth was planning on baking chocolate cookies for her guests, but she ran out of baker's chocolate.  She instead used chopped up semi-sweet chocolate bits in the cookies.  Ruth discovered that the bits did not melt into the dough as baker's chocolate does.
No matter, her cookies became an instant hit with her guests and have since become a favorite cookie throughout America and the rest of the world! Approximately 25 percent of the cookies baked in the United States today are chocolate chip cookies, in my house it is about 95%.
Hillary Clinton Chocolate Chip Cookies
1 1/2 cup unsifted flour
1 tsp salt
1 tsp baking soda
1 cup Crisco
1/2 cup sugar
1 cup light brown sugar
1 tsp vanilla extract
2 eggs
2 cup old fashioned rolled oats
12 oz package semisweet chocolate chips
Preheat oven to 350 degrees.  Combine flour, salt, and baking soda.  Beat together Crisco, sugars, and vanilla until creamy.  Add eggs, beating until light and fluffy.  Gradually beat in flour mixture and rolled oats.  Stir in chocolate chips.  Drop batter by well rounded teaspoonfuls onto cookie sheets.  Bake 8 to 10 minutes or until cookies are done.  Cool cookies on sheets for two minutes before placing them on wire rack for further cooling.  Yield: 7 1/2 dozen cookies.
If you have a favorite recipe using chocolate chips, please share with our readers and spread the guilty pleasure around!