Chemorella by Ken Phillips and Katy Franco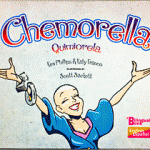 A wonderfully sweet book about beating cancer and seeing your dreams come true is our book review selection this week.  Chemorella uses the Cinderella story to teach us all that obstacles like cancer can be overcome with grace, good humor and most importantly with the love of others.
Inspired by author Katy Franco's own battle with breast cancer the story of Chemorella follows a young woman from diagnosis to recovery.  Because of Ms. Franco's Puerto Rican heritage, the book is bilingual in English and Spanish.
Chemorella is illustrated by Scott Sackett whose lovely art work depicts how a young woman must deal with hair loss while undergoing chemotherapy.  Not wanting to be known for her bald head, Chemorella uses her artistic talent to decorate sneakers with glittery designs.  The sneakers draw attention to Chemorella who is invited to participate in a charity fashion show event.
The ugly step sisters from Cinderella are replaced by Chemorella's ugly roommates. The Fairy Godmother is a kindly elderly neighbor who convinces Chemorella to participate in the charity event.  And then there is the prince, Vince, a stylish artist who is looking for true love.  He tracks Chemorella down after she leaves her glittery sneaker behind at the charity event.
The story ends happily as all Cinderella stories do.   However, the  stronger lesson from this story is that it's not what happens to you, but how you handle what happens to you.  This book will help any patient and her family with laughter and hope for the future.  I would recommend Chemorella to any one facing cancer or other serious illnesses.
Katy Franco is a stand up comedian and spokesperson for breast cancer awareness.  She was recently the keynote speaker at the 25th Annual Association for Applied and Therapeutic Humor Conference "Beat the Blues with Humor". She also frequently appears at children's hospitals and her schedule may be found on the Chemorella Facebook page.
Leave a comment about this blog post and enter to win a copy of Chemorella.  Comments must be left by 12 midnight PST on Friday, June 22nd, 2012.