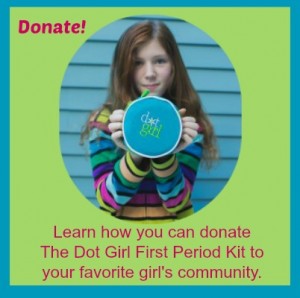 The founding mission of Dot Girl Products is to prepare every girl for her first period.  The more girls know about the changes that will take place to their bodies during puberty, the more they will face this transition with confidence.  Learning about their bodies in a supportive way will also help girls to take control about future health decisions they will face.
We are a small company with big dreams and we want to help the many schools and organizations that ask for donated kits because of their own limited budgets. Believing that there is no time like the present to achieve our dream, we decided to turn to Indiegogo crowd funding to raise the necessary money to put The Dot Girl First Period Kit® into as many hands as possible.
Our goal is to donate 1200 Dot Girl kits to deserving organizations. Through your generous donations more girls will have the tools and information needed to experience their first period prepared and confident.  Together we will be able to support schools and organizations who are doing the important work of educating girls about periods.
The campaign lasts from March 18th – April 27th, 2014. Learn how you or your organization can donate here.