How to talk to your daughter about sex, periods and STD's.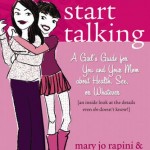 Start Talking: A Girl's Guide for You and Your Mom about Health, Sex, or Whatever is THE book with all the answers for you and your daughter.  Written by psychotherapist Mary Jo Rapini (of TLC's series Big Medicine) and OB/GYN nurse practitioner Janine J. Sherman, Start Talking lays out chapter by chapter all the information you need to know about such topics as menstruation, birth control, sex and STD's.
I learned so much from this book while I was reading it.  And I regretted I didn't know about Start Talking when my daughter was younger.  It would have made certain conversations so much easier.  To compensate I plan on giving a copy to my sister who has an 8 year old daughter.
Each chapter has the same format.  Information about the particular topic is thoroughly explained in the text and with simple drawings.  The authors also provide real life stories from patients they have treated. A series of questions that a daughter or mom may ask about the topic are then presented with the authors providing answers and scripts on how to approach the topic with each other.  This is nicely exhibited in the 'Table Talk' section of each chapter.
Both being doctors (and mothers of daughters), the authors also stress the importance of girls having a health provider that they can trust.  Although we hope that our daughters will always share what is going on with their bodies with us, that might not always be the case.  Your daughter may be embarrassed about something as simple as a yeast infection and having a relationship with a doctor before any issues arise is important.  In the end, our daughter's health and well-being is the main goal.
Mary Jo Rapini and Janine Sherman do not shy away from any topic in this book – date rape to eating disorders is discussed in a way that provides information and gives you confidence to approach the topic with your daughter.  You can read the book with her or pass it back and forth and have discussions or 'table talks' about the different topics.  I would highly recommend this book to every mom with a daughter.
Leave a comment about this blog post and enter to win a copy of  Start Talking: A Girl's Guide for You and Your Mom about Health, Sex, or Whatever.  Comments must be left by 12 midnight PST on Friday, May 11th, 2012.